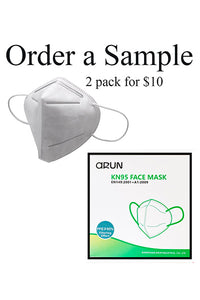 Would you like to see, touch, and try out the KN95 before you buy?  We have added a sample option for you to check the quality before you place your order.  With all the counterfeit products being sold right now we can't blame you!
You will receive 2 KN95 mask and FREE shipping.  

Dongguan Arun Industrial Co., LTD

Our masks have passed the NPPTL International Assessments with a range from 96.87% to 99.14% Filter Efficiency.  Samples were tested using a modified version of NIOSH Standard Test Procedure (STP) TEB-APR-STP-0059.